Welcome to the official, authorised web site for the late Ronnie Biggs.You can also follow Ron on Facebook by clicking here.
So what is it that fascinates so many people about Ronald Arthur Biggs and makes him a household name in so many countries around the world? Is it the man or the myth that makes Ron, Ronnie, Biggsy, a latter-­‐day Robin Hood, and the man who is best remembered from a gang of sixteen who held up a mail train in August 1963?
The story of Ronald Biggs is the ultimate true-life crime story, one that proves that the truth can be stranger than fiction. It is not the story of a train robbery, but a remarkable story of a remarkable man's struggle for liberty. The story fascinates even those who were too young to remember the Great Train Robbery, much as the stories of Butch Cassidy and Robin Hood still hold their international appeal today.
Ronald Biggs was no hardened criminal when he was invited by his friend Bruce Reynolds to participate in what was to become the Great Train Robbery. The robbery was simply to solve the cash flow problems that Biggs' business faced, yet the result was a harsh prison sentence that would have kept Biggs incarcerated for the best part of his life. Something he could and would not accept.
Prior to the Great Train Robbery, Biggs had never been out of England, yet he, the ordinary man, managed to navigate his way through docks and airports, through France, Australia, Panama, Argentina, Bolivia and Brazil, all the time keeping one step ahead of the posse. A posse which for many year's had hunted Biggs down as Britain's most wanted man, this despite the fact that he had never been involved in any violent crime.
Biggs' life on the run was not the bed of roses the British popular press has often painted. Besides the constant worry of capture, he often had to go months and sometimes years without seeing his family, friends and loved ones as he survived by his wits. He had to endure the grief of the loss of his eldest son in a family car crash, without being able to talk to any one or mourn his child. He tried to give himself up to the authorities on more than one occasion, but each time to no avail. He always remained the odd man out.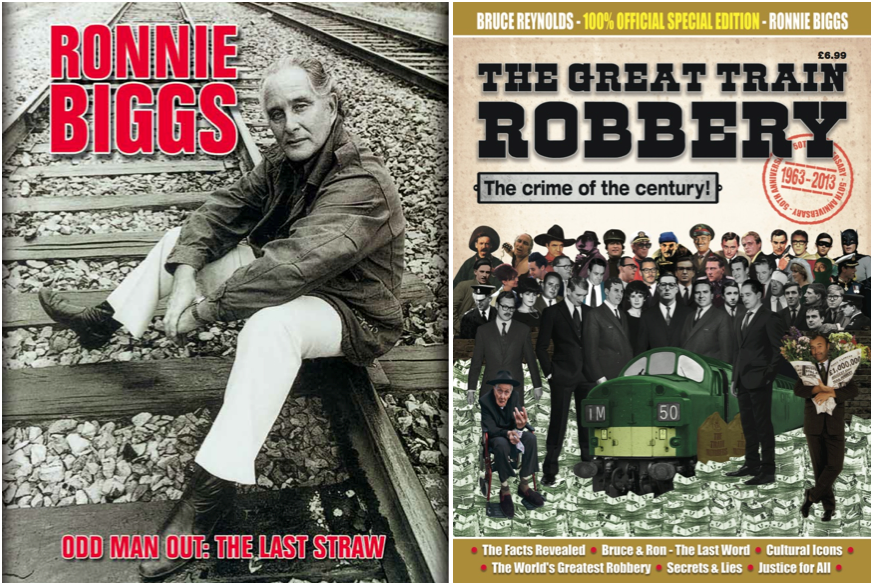 To learn more about the life and times of Ronnie Biggs, get the story direct from the "horse's mouth" and read Ron's own autobiography "Odd Man Out: The Last Straw" (MPress) or "The Great Train Robber: My Autobiography" (John Blake / Bonnier).
If you are interested in what went on, in and around the Great Train Robbery then read "The Great Train Robbery – Crime of the Century" that was published on the 50th anniversary of the robbery.